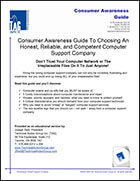 Consumer Awareness Guide To Choosing An Honest, Reliable & Competent Computer Support Company
Computer scams and rip-offs that you MUST be aware of.
5 Costly misconceptions about IT maintenance, technical support and repair.
Viruses, worms, spyware, and hackers: what you need to know to protect yourself.
Critical characteristics you should demand from your computer support technician.
Why you need to avoid "cheap" or "bargain" IT support and IT maintenance services.
The one sure-fire sign that you should run – not walk – away from an IT support company.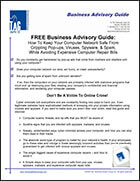 How To Keep Your Computer Network Safe From Crippling Pop-ups, Viruses, Spyware, & Spam, While Avoiding Expensive Computer Repair Bills
Computer scams, threats, and rip-offs that you MUST be aware of.
Sure-fire signs that you are infected with spyware, malware, and viruses.
Sneaky, underhanded ways cyber criminals access your computer, and how you can stop them dead in their tracks.
The absolute worst type of program to install for your network's health; if your employees go to these sites and indulge in these seemingly innocent activities then you're practically guaranteed to get infected with vicious spyware and viruses.
The single biggest cause of expensive computer repairs – and how to avoid it.
6 Simple steps to keep your computer safe from pop-ups, viruses, spyware, malware, and expensive computer repair bills.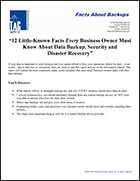 12 Little-Known Facts and Insider Secrets Every Business Owner Should Know About Backing Up Their Data and Choosing a Remote Backup Service
What remote, offsite, or managed backups are, and why EVERY business should have them in place.
7 critical characteristics you should absolutely demand from any remote backup service; do NOT trust your data to anyone who does not meet these criteria.
Where tape backups fail and give you a false sense of security.
Frightening trends, cases, and questions every business owner should know and consider regarding data security.
The single biggest cause of expensive computer repairs – and how to avoid it.
The single most important thing to look for in a remote backup service provider.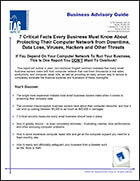 7 Critical Facts Every Business Must Know About Protecting Their Computer Network From Downtime, Data Loss, Viruses, Hackers and Other Threats
The single most expensive mistake most small business owners make when it comes to protecting their company data.
The universal misconception business owners have about their computer networks, and how it can end up costing between $9,000 to as much as $60,000 in damages.
7 Critical security measures every small business should have in place.
How to greatly reduce – or even completely eliminate – frustrating crashes, slow performance, and other annoying computer problems.
How to avoid expensive computer repair bills and get all the computer support you need for a low, fixed monthly rate.